Digital technologies, learning capacity of the organisation and innovation EU-wide empirical evidence from a combined dataset
This paper investigates the effects of digitalisation and organisational practices on innovation in Europe, between 2010 and 2016. We analyse the cross-country and industry differences in firms' investments and capabilities to adopt and use new technologies and their effects on innovation outputs. Along with traditional drivers of innovation, such as R&D expenditure, two indicators are constructed. One encompasses direct measures of the adoption and use in enterprises of a set of digital technologies. The other measures the learning capacity of organisations, which captures the use of management tools and organisational practices concerned with the improvement of individual and organisational learning. Product, process, organisational and marketing innovations are identified as well as their combination in the company, in order to explore possible synergies between them. Empirical evidence is provided by a unique dataset based on the integration at the sector within country level of EU-wide employers' and employees' surveys: the Community Innovation Survey, the Community ICT usage and e-commerce in enterprises surveys (Eurostat) and the European Working Conditions Survey (Eurofound). The descriptive evidence shows that Digital technologies adoption and use is rapidly growing across Europe while the Learning capacity of organisations remains stagnant. By contrast, our results from the econometric analysis show that their interaction has positive effects on innovations. In particular, a mix of product/process innovations with organisational/marketing innovations rests on joint investments in R&D, digital technology adoption and use and learning capacity.
Cet article étudie les effets de la digitalisation et des pratiques organisationnelles sur l'innovation en Europe, entre 2010 et 2016. Les différences entre pays et secteurs en matière d'investissements et de capacités des entreprises à adopter et à utiliser les nouvelles technologies sont analysées ainsi que les effets des technologies numériques sur les innovations. En plus des moteurs traditionnels de l'innovation, tels que les dépenses de R&D, deux indicateurs sont construits. L'un englobe des mesures directes de l'adoption et de l'utilisation par les entreprises d'un ensemble de technologies numériques. L'autre mesure la capacité d'apprentissage de l'organisation, prenant en compte l'utilisation d'outils de gestion et de pratiques organisationelles visant à améliorer l'apprentissage individuel et organisationnel. Les innovations de produit, de procédé, organisationelles et marketing sont identifiées ainsi que leur combinaison dans l'entreprise, afin d'explorer les éventuelles synergies quelles entretiennent entre elles. L'analyse empirique mobilise un ensemble de données unique, reposant sur l'intégration au niveau des secteurs au sein des pays de plusieurs enquêtes couvrant l'Union Européenne (UE) et conduites auprès des employeurs d'une part, des salariés d'autres part : l'enquête communautaire sur l'innovation (Eurostat), l'enquête sur l'utilisation des TIC et le commerce électronique dans les entreprises (Eurostat) et l'enquête européenne sur les conditions de travail (Eurofound). Les statistiques descriptives montrent que l'adoption et l'utilisation des technologies numériques augmentent rapidement en Europe alors que la capacité d'apprentissage des organisations stagne. L'analyse économétrique montre cependant que leur interaction a des effets positifs sur les innovations. En particulier, la combinaison d'innovations de produit/procédé et d'innovations organisationelle/marketing repose sur des investissements conjoints dans la R&D, l'adoption et l'utilisation des technologies numériques et la capacité d'apprentissage.
Fichier principal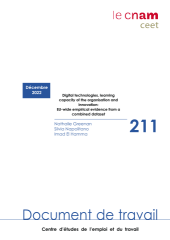 Doc211- Digital technologies, learning capacity of the organisation and innovation .pdf (1.43 Mo)
Télécharger le fichier
Origin : Publisher files allowed on an open archive
licence : CC BY NC ND - Attribution - NonCommercial - NoDerivatives