How does the analysis of activity call into question a project of automation in MSD prevention?
Comment l'analyse de l'activité amène à réinterroger un projet d'automatisation en prévention des TMS ?
As an MSD (musculoskeletal disorders) prevention approach, a company undertook to automate an activity in which the equipment was deemed harmful for the upper limbs. The company asked for some ergonomists to consult on the ongoing project. The analysis of activity performed by the ergonomists revealed that many parameters have not been taken into account in the initial plan. Also they would have had some impact on joint and muscle loads, as well as on manufacturing processes and work organization. We suggested, as the company needs to rethink the project, to assist them in drawing up operational specifications to the new machine. A participatory approach was set up and allowed to define the needs related to the future machine. The analysis of activity was a powerful tool for thinking through the project again. The aim of this paper is to present how the ergonomists' analysis of activity led the executive board to redefine the project.
Dans le cadre d'une démarche de prévention des TMS (troubles musculosquelettiques), une entreprise a entrepris d'automatiser une machine considérée comme très contraignante pour les membres supérieurs. Elle sollicite des ergonomes pour l'aider dans ce projet. L'analyse de l'activité a révélé que de nombreux paramètres n'avaient pas été pris en compte dans le devis et le plan initial, alors que ceux-ci auront des impacts sur les sollicitations articulaires, tout comme sur les processus de fabrication et sur l'organisation du travail. Devant la nécessité de repenser le projet, nous avons proposé à la Directrice de l'entreprise de l'accompagner dans la définition d'un cahier des charges fonctionnel. Une démarche participative a été mise en place et a permis de définir les besoins relatifs à la future machine. L'analyse de l'activité s'est présentée comme un outil puissant dans la redéfinition du projet. L'objectif de la communication est de présenter comment l'analyse de l'activité réalisée par les ergonomes amène la direction à réinterroger le projet d'automatisation en vue de la prévention de TMS.
Fichier principal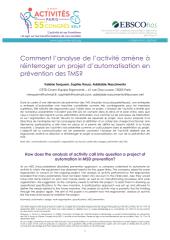 contribution-144-final.pdf (740.17 Ko)
Télécharger le fichier
Origin : Publisher files allowed on an open archive