Artificial Intelligence in professional activities: what are the visions of stakeholders?
Intelligence Artificielle dans les activités professionnelles : quelles visions des acteurs concernés ?
Numerous reflections and white papers were produced about "new" artificial intelligence (AI) systems but with little empirical data about their usefulness and consequences in the context of professional activities. Drawing on the perspective of stakeholders, the objective of this paper is to provide empirical data about the potential benefits and risks of AI in work situations and the transformations they can bring about. This exploratory study is based on a qualitative methodology combining 15 semi-directive interviews and open observations conducted during discussion lectures and workshops on AI. If the first results show that the majority of participants consider AI as a tool to help humans, they also highlight a gap between the AI functionality proposed or imagined by designers and the participants' real needs. They also express some fears that echo the problems of automation wellstudied in the field of ergonomics. These results invite us to reflect on how the ergonomic approach can investigate these questions about the place of AI in work situations.
Au-delà des réflexions, ouvrages et livres blancs produits au sujet des « nouveaux » systèmes d'Intelligence Artificielle (IA), il existe peu de données empiriques sur leurs apports et leurs conséquences dans le cadre des activités professionnelles. L'objectif de cette communication est d'apporter des éléments empiriques concernant les bénéfices, les risques et les transformations pouvant être occasionnées par l'IA dans des situations de travail du point de vue des acteurs concernés. Cette étude exploratoire s'appuie sur une méthodologie qualitative mêlant 15 entretiens semi-directifs et observations ouvertes menées lors de conférences-débat et de workshops sur l'IA. Si les premiers résultats montrent que le point de vue majoritaire des participants consiste à considérer l'IA comme un outil d'aide pour l'humain, ils mettent aussi en évidence un décalage entre les fonctionnalités de l'IA proposées sur le marché ou imaginées par les concepteurs et leurs besoins réels. Ils formulent aussi un certain nombre de craintes qui font écho aux problèmes bien étudiés en ergonomie concernant l'automatisation. Ces résultats nous invitent à réfléchir à la manière dont l'approche ergonomique peut se saisir de ces interrogations concernant la place de l'IA dans les situations de travail.
Fichier principal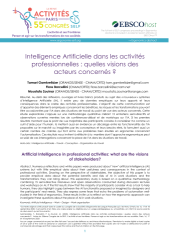 contribution-178-final.pdf (577.46 Ko)
Télécharger le fichier
Origin : Publisher files allowed on an open archive