La centrale de pompage thermo-solaire de Diré au Mali (années 1970-1980) : Éléments pour une évaluation sociotechnique
The purpose of this contribution is to pro- vide empirical and theoretical elements for a renewed assessment of the socio-technical and historical interest of the Diré solar power plant which began operating in Mali in 1979. This case study, conducted from the use of archives and testimonies, proposes to decons- truct "the Diré technical object" to demons- trate that its elements successfully transposed the social objectives of the device into its mechanisms. Then, the solar machine is placed in the historical context of the cooperation project of its sponsors (French and Malian states) not to mix "the prototype" with the "operation" while capturing their interac- tions. Finally, we question the nature of the variables to be summoned for the evaluation of the solar object: social variables versus technical-economic elements?
L'objet de cette contribution est d'apporter des éléments empiriques et théoriques pour une évaluation renouvelée de l'intérêt socio- technique et historique de la centrale solaire de Diré qui entra en fonction au Mali en 1979. Cette étude de cas, menée à partir de l'exploi- tation d'archives et de témoignages, propose de déconstruire « l'objet technique Diré » afin de démontrer que ses éléments transposèrent avec succès les objectifs sociaux du dispositif dans ses mécanismes. Puis, la machine solaire est replacée dans le contexte historique du pro- jet de coopération de ses commanditaires (les États français et malien) notamment afin de ne pas faire l'amalgame entre « le prototype » et « l'opération », tout en saisissant leurs inte- ractions. Enfin, la question de la nature des variables à convoquer pour l'évaluation de l'objet solaire est posée : variables sociales versus éléments technico-économiques ?
Fichier principal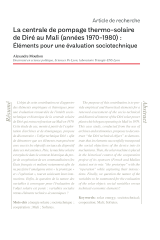 CHC 13 - 04 - MOUTHON.pdf (3.68 Mo)
Télécharger le fichier
Origin : Publication funded by an institution