How to help young people educated with limited orientation options to orient their lives?
Comment aider les jeunes formés dans une école malade de l'orientation à s'orienter dans la vie ?1
As a consequence of the selection processes of students within the French school system, youths tend to consider their future from the perspective of their past school results. This view contrasts with what is expected here and now from them and in terms of the direction of their work paths and lives. To help them cope with such a task, students can be offered three kinds of support. Nevertheless, only a major reorganization of school and of its relationships with all the students' other life experiences would permit them to construct the career competencies they need.
Compte de tenu des processus de sélection des élèves dans le système scolaire français, les jeunes tendent à considérer leur avenir en se référant à leurs résultats scolaires antérieurs. Cette vue diffère de ce que l'on attend ici et maintenant des individus en matière d'orientation de leur parcours professionnel et de leur vie. Trois types d'aides peuvent être apportés aux élèves pour les aider à faire face à cette tâche. Néanmoins, seule une profonde réorganisation de l'école et de ses relations avec les autres expériences de vie des élèves leur permettrait de construire les compétences qu'on exige d'eux pour s'orienter.
Fichier principal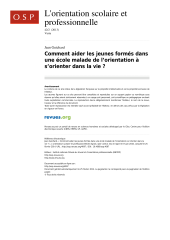 13.Guichard.OSP.AiderAsorienterDansEcoleMaladeOrientation.pdf (164.57 Ko)
Télécharger le fichier
Origin : Explicit agreement for this submission