Building the crisis : What's going on inside the group on the polar Traverse ?
La fabrique de la crise : que se passe t-il à l'intérieur du groupe sur le raid polaire ?
This paper presents a case study of a polar traverse (logistical transport over the ice in Antarctica) during a crisis situation encountered. The aim of this research is to consider the understanding of the crisis situation through the Powley (2009) model of resilience activation. In February 2013, when the traverse returns from Concordia, the gasoil (used for heating and transportation) begins to freeze. Through a comprehensive approach, a reconstruction of the crisis situation was traced with the collaboration of the eight raid members involved in the situation. The results revealed a collective awareness that this was an unanticipated, unforeseen situation. Exotic solutions were provided by the most novices through the sharing of their diverse experiences. Questions of training, of contradictory debate, have fuelled the discussion around the frames of thought preventing.
Cette communication présente une étude de cas menée sur le raid polaire (transport logistique sur le glace en Antarctique) lors d'une situation de crise rencontrée. Le but de cette recherche est d'envisager la compréhension de la situation de crise à travers le modèle de l'activation de la résilience de Powley (2009). En Février 2013, au retour de Concordia, le gasoil (permettant de se chauffer et de se déplacer) commence à figer. Par une approche compréhensive, une reconstitution de la situation de crise a été retracée avec la collaboration des huit membres du raid impliqués dans la situation. Les résultats ont révélé la prise de conscience collective qu'il s'agissait d'une situation imprévue impensée. Des solutions exotiques, sortant des sentiers battus ont été apportées par le plus novices à travers le partage de leurs expériences diversifiées. Les questions de formation, de débat contradictoire viennent alimenter la discussion autour des cadres de pensée empêchant.
Fichier principal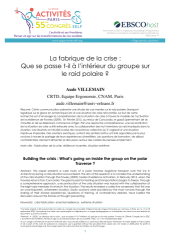 contribution-166-final.pdf (469.07 Ko)
Télécharger le fichier
Origin : Publisher files allowed on an open archive