Évaluation des bénéfices potentiels liés à l'utilisation d'un brouillard d'eau basse pression dans la lutte contre les incendies chez les sapeurs-pompiers de Paris, à partir d'une évaluation quantitative des risques
Objectives Changes in residential building design and the use of new construction materials are introducing new risks to firefighters, including increased smoke toxicity. A water-mist system produced by hydropneumatic fragmentation in firefighting operations could reduce the exposure to toxic smoke. The purpose of this study is to assess the potential health benefits for firefighters of such a water-mist system on smoke exposure during the post-extinction phase (dedicated to excavating operations). Methods The different pollutants present during the post-extinction phase were identified and their concentrations measured in an experimental context. Then we estimated the duration of occupational exposure of firefighters to these pollutants through an exposure matrix. Finally, using a quantitative health risk assessment approach, we compared the risks associated with smoke exposure in the context of a conventional attack with those associated with the use of a water-mist system. Results With the use of traditional firefighting equipment, our study shows an excess cancer risk of up to 1,3/100,000 depending on the rank of the firefighters studied, as well as hazard quotients well above 1 for non-cancer effects. The use of a water-mist fire-fighting system allows to reduce the excess risk of cancer to below 2,6/1,000,000. However, despite the use of this new extinction method, the non-cancer risk level remains high for some toxic substances. Conclusions It is necessary to implement preventive actions to reduce the exposure of firefighters to toxic smokes and its health impact. This study shows that innovative firefighting approaches, such as a water-mist firefighting system, could lead to positive results.
Objectifs L'évolution de la conception des bâtiments d'habitation et l'utilisation de nouveaux matériaux introduisent de nouveaux risques pour les sapeurs-pompiers, dont une toxicité des fumées accrue. L'utilisation d'un brouillard d'eau produit par fragmentation hydropneumatique pour lutter contre l'incendie pourrait réduire l'exposition à ces fumées. L'objectif de cette étude est d'évaluer les bénéfices sanitaires potentiels pour les sapeurs-pompiers d'un tel brouillard d'eau sur l'exposition aux fumées au cours de la phase « post-extinction » (dédiée aux opérations de déblai). Méthodes Les différents polluants présents au cours de la phase « post-extinction » ont été identifiés et leurs concentrations mesurées dans un cadre expérimental. Ensuite, le temps d'exposition professionnelle des sapeurs-pompiers à ces polluants a été estimé à travers une matrice d'exposition. Enfin, une approche d'évaluation quantitative des risques sanitaires a permis de comparer les risques liés à l'exposition aux fumées dans le cadre d'une attaque classique à ceux liés à l'utilisation d'un brouillard d'eau. Résultats Avec l'emploi de moyens d'extinction traditionnels, notre étude met en évidence un risque de cancer en excès montant jusqu'à 1,3/100 000 en fonction du grade des sapeurs-pompiers étudiés, ainsi que des quotients de danger largement supérieurs à 1 pour les effets non cancérigènes. Le brouillard d'eau a un effet protecteur, permettant notamment de réduire l'excès de risque de cancer en-dessous de 2,6/1 000 000. Cependant, malgré l'usage de ce nouveau moyen d'extinction, le niveau de risque hors cancer demeure élevé pour certaines substances toxiques. Conclusions Il est nécessaire de mettre en place des actions de prévention afin de diminuer l'exposition aux fumées d'incendie des sapeurs-pompiers et ses impacts sanitaires. Cette étude montre que l'emploi de nouveaux moyens d'extinction tels que la brumisation est une piste intéressante.
Fichier principal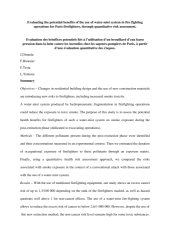 1-s2.0-S1775878521001272-am-1.pdf (920.98 Ko)
Télécharger le fichier
Origin : Files produced by the author(s)