From Sen to Ergonomic Practices: the Conditions and Means for an Enabling Organizational Intervention
De Sen a la práctica de la ergonomía: condiciones y medios para una intervención ergonómica capacitante
De Sen à la pratique ergonomique : conditions et moyens pour une intervention ergonomique capacitante
This article addresses the means and conditions of an enabling organizational intervention using and developing Amartya Sen's conceptual framework. Specific attention is devoted to the conceptual foundations underlying the proposed methodology. The methodology was developed in a research-intervention aiming to (re)design the organization of a medical process. The development of both collective agency and capabilities was a fundamental aspect of the intervention. The methodology is grounded in the desire to understand human activities and seeks to contribute to the development of the individual, team, organization, and activity. In this constructive framework, the ergonomist acted as a conversion factor, transforming individual and collective capacities into the ability to actually "perform better together." Individuals became agents capable of designing their own future activities. The conclusion addresses, on one hand, the conditions for generalizing the proposed methodology and, on the other hand, the roles of the ergonomist in an enabling intervention.
El artículo tiene por objeto especificar las condiciones y los medios de una intervención capacitante en la organización desarrollando el marco teórico de Amartya Sen. Se presta atención a las bases conceptuales que subyacen a la metodología desplegada en el marco de una investigación-intervención para el (re)diseño de la organización de un proceso hospitalario. El desarrollo de la agencia y las capacidades colectivas se situó en el centro de la intervención. Los métodos utilizados se basan en el deseo de comprender la actividad humana en el trabajo y se centran en el desarrollo del individuo, el colectivo, la organización y la actividad. En este enfoque constructivo, la metodología del ergónomo ha tratado de "activar" los factores que permiten convertir las capacidades individuales y colectivas en capacidades efectivas para " hacerlo mejor juntos". Los actores del proceso se convirtieron en agentes capaces de definir su futura actividad colectiva. La conclusión discute las condiciones para la generalización del método y los papeles del ergónomo en esta intervención ergonómica capacitante.
L'article vise à préciser les conditions et les moyens d'une intervention capacitante sur l'organisation en développant le cadre théorique d'Amartya Sen. L'attention est portée sur les bases conceptuelles sous-jacentes à la méthodologie déployée dans le contexte d'une recherche-intervention de (re)conception de l'organisation d'un processus hospitalier. Le développement de l'agencéité et des capabilités collectives a été placé au cœur de l'intervention. Les méthodes utilisées sont ancrées dans une volonté de compréhension de l'activité humaine dans le travail et axées sur le développement de l'individu, du collectif, de l'organisation et de l'activité. Dans cette approche constructive, la méthodologie de l'ergonome a cherché à « activer » des facteurs permettant de convertir les capacités individuelles et collectives en capabilités effectives à « faire mieux ensemble ». Les acteurs du processus sont devenus des agents capables de définir leur activité collective future. La conclusion aborde les conditions de la généralisation de la méthode et les rôles de l'ergonome dans cette intervention ergonomique capacitante.
Fichier principal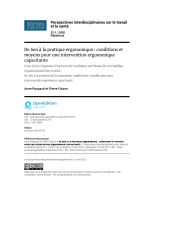 pistes-6753.pdf (376.46 Ko)
Télécharger le fichier
Origin : Publisher files allowed on an open archive