Zusammenfassung Skala beruflicher Werte: Entwicklung und Überprüfung der Version für Studierende (VVS-S)
Vocational values scale: initial development and testing of the student form (VVS–S)
Escala de Valores Vocacionales: Desarrollo Inicial y Prueba del Formulario del Estudiante (VVSS)
Échelle des valeurs professionnelles : Développement initial et test du formulaire étudiant (VVS-S)
Ziel dieses Manuskripts war die Entwicklung eines Instruments zur Erfassung von beruflichen Werten von Studierenden (VVS-S). Die Skala wurde in französischer Sprache entwickelt, wobei drei verschiedene Stichproben togoischer Teilnehmenden für die Itementwicklung ( N = 140), exploratorische ( N = 308) und konfirmatorische Analysen ( N = 300) verwendet wurden. Sie besteht aus 17 Items, die in die fünf Subskalen Macht, Familie, Helfen, Gehalt und Kreativität unterteilt sind. Die Korrelations-, Higher-Order- und Bifaktormodelle zeigten, dass diese Werte unabhängig voneinander betrachtet werden können. Außerdem korrelierten vier der Werte positiv, aber schwach mit der Lebenszufriedenheit. Die Nützlichkeit des VVS-S für Forschung und Praxis in der Beratung, insbesondere in Afrika südlich der Sahara, wird diskutiert.
This manuscript aimed to develop an instrument assessing vocational values among students (VVS–S). The scale was developed in French using three different samples of Togolese participants for item development ( N = 140), exploratory ( N = 308) and confirmatory analyses ( N = 300). It consists of 17 items divided into the five subscales of Power, Family, Helping, Salary, and Creativity. The correlational, higher-order, and bifactor models showed that these values could be considered independently. Moreover, four of the values correlated positively but weakly with life satisfaction. The VVS–S's usefulness for research and practice in counseling, particularly in sub-Saharan Africa, is discussed.
Este manuscrito tuvo como objetivo desarrollar un instrumento de evaluación de los valores vocacionales entre los estudiantes (VVS–S). La escala se desarrolló en francés utilizando tres muestras diferentes de participantes togoleses para el desarrollo de ítems (N = 140), exploratorio (N = 308) y análisis confirmatorios (N = 300). Consta de 17 ítems divididos en las cinco subescalas de Poder, Familia, Ayuda, Salario y Creatividad. Los modelos correlacionales, de orden superior y bifactores mostraron que estos valores podían considerarse de forma independiente. Además, cuatro de los valores se correlacionaron positivamente pero débilmente con la satisfacción con la vida. Se discute la utilidad del VVS–S para la investigación y la práctica en asesoramiento, particularmente en el África subsahariana.
Ce manuscrit visait à développer un instrument d'évaluation des valeurs professionnelles chez les étudiant•e•s (VVS-S). L'échelle a été développée en français à partir de trois échantillons différents de participant•e•s togolais•es pour l'élaboration des items (N = 140), les analyses exploratoires (N = 308) et confirmatoires (N = 300). Elle est composée de 17 items répartis en cinq sous-échelles: Pouvoir, Famille, Aide, Salaire et Créativité. Les modèles corrélationnels, d'ordre supérieur et bifactoriels ont montré que ces valeurs pouvaient être considérées indépendamment. De plus, quatre des valeurs sont corrélées positivement mais faiblement avec la satisfaction de vie. L'utilité du VVS-S pour la recherche et la pratique du conseil, en particulier en Afrique sub-saharienne, est discutée.
Fichier principal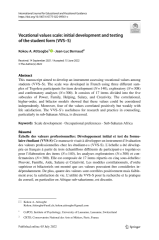 Atitsogbe-Bernaud2022_Article_VocationalValuesScaleInitialDe.pdf (1.07 Mo)
Télécharger le fichier
Origin : Publication funded by an institution