Drug health surveillance in the risk society
Drug health surveillance protects the health of the population by preventing substandard, falsified, or unregistered drugs from being consumed and causing harm. This essay discusses drug health surveillance in a context of continuous exposure of individuals to risks that directly interfere with the health-disease process. Based on reflections about health risk and risk society, associated with Canguilhem's philosophy of life and Schwartz's ergology, it argues for the need to understand human activity and work to act on risk. Possible challenges for health inspection action include: (1) conceptual review; (2) regulatory updating; (3) development of regulatory mechanisms and tools; and (4) expansion of technical and training capacity. To face them, the involvement and participation of the various actors in cooperation and collaboration spaces, as well as the construction of a permanent forum of discussion or technical/sectorial meetings, is considered promising. Studies that highlight the concrete work of supervision teams and that analyze human activity in the relationship between the prescribed and the real can help to understand the experience of dealing with risk, the adequacy of standards, training needs, among others.
Resumo A fiscalização sanitária busca proteger a saúde da população impedindo que medicamentos fora do padrão, falsificados ou não registrados sejam consumidos e causem danos à saúde. Este ensaio objetiva contribuir para o debate acerca da fiscalização sanitária de medicamentos, num contexto de exposição contínua dos indivíduos a riscos que interferem no processo saúde-doença. Baseado nas reflexões sobre o risco sanitário e a sociedade de risco, associado à filosofia da vida de Canguilhem e à ergologia de Schwartz, discorre sobre a necessidade de se compreender a atividade humana e o trabalho para agir sobre o risco. Foram identificados possíveis desafios para a ação da fiscalização sanitária: (1) revisão conceitual; (2) atualização normativa; (3) desenvolvimento de mecanismos e ferramentas regulatórias; e (4) ampliação da capacidade técnica - formativa. Para enfrentá-los, considera-se um caminho promissor o envolvimento e a participação dos diversos atores nos espaços de cooperação e colaboração, bem como a construção de fórum permanente de debates ou de câmeras técnicas/setoriais. Estudos que dão visibilidade ao trabalho concreto das equipes de fiscalização sanitária e que analisam a atividade humana na relação entre o prescrito e o real podem ajudar a compreender a experiência de lidar com o risco, a adequação das normas, as necessidades de formação, entre outros.
Fichier principal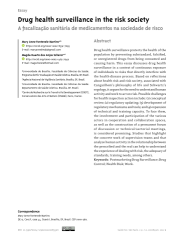 document.pdf (142.22 Ko)
Télécharger le fichier
Origin : Publisher files allowed on an open archive