« Faire sauter l'idée toute faite que l'université est un lieu où on apprend. »
"Blow up the Preconceived Notion that University is a Place to Learn." Socializing Students to Entrepreneurship Over the past ten years or so, a growing number of schemes and courses have been introduced in higher education to raise awareness or train students in the "spirit of entrepre- neurship." Through an analysis of the pedagogical practices and conceptions conveyed by this project for the socialization of youth, this article proposes to shed light on certain uphea- vals at work in the educational field. In particular, it examines the challenges of the valori- sation of "soft skills," which is at the heart of the training courses studied. While the promotion of these "behavioural skills" or other soft skills may be appropriate from different perspectives, the article shows that it is primarily involved in a form of destabilization of the university's mission in terms of knowledge transmission, in favour of a shaping of personalities carried out with reference to the norms and values of the corporate world.
Depuis une dizaine d'années se multiplient dans l'enseignement supérieur des dispositifs et des filières se proposant d'éduquer les étudiants à « l'esprit d'entre- prendre ». À travers une analyse des pratiques et conceptions pédagogiques que véhicule ce projet de socialisation de la jeunesse, cet article éclaire certains bou- leversements à l'œuvre dans le champ éducatif. Il interroge notamment les enjeux de la valorisation des soft skills, qui se trouve au cœur des formations étudiées. Si la promotion de ces « compétences comportementales » ou autres « savoir-être » peut être appropriée dans des optiques différentes, l'article montre qu'elle parti- cipe au premier chef à une forme de déstabilisation de la mission de l'université en matière de transmission des savoirs, au profit d'un façonnage des personnalités effectué en référence aux normes et valeurs de l'univers de l'entreprise.
Fichier principal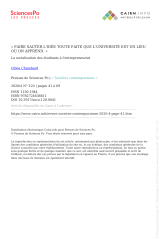 SOCO_120_0041.pdf (1.24 Mo)
Télécharger le fichier
Origin : Explicit agreement for this submission