Job rotation in beef packing operations: beyond the physical dimensions of work
Rodízio de postos em abate de bovinos: para além das dimensões físicas do trabalho
Abstract: Brazilian Regulation NR-36, specific to the slaughterhouse and meat packing industries, emphasizes the implementation of job turnover to reduce workers' exposure to repetitive and machine-controlled physical strain. However, studies have shown that the effects of such measures are generally less than expected, and that rotation alone is not the solution to work-related health problems. Based on a study performed in a beef packing plant, the article aims to present and discuss real work dimensions that are considered relevant to the plant workers' health and safety. Knowledge of such dimensions is important for the implementation of job rotation projects. The methodology included interviews with 16 volunteers divided into four groups. The focus group and collective confrontation techniques were used, drawing on videos of the work. The results pointed to dimensions already known in the literature, related to physical strain, the required skills, work pace, and insufficient time to perform quality work. New data appeared in relation to the work's heterogeneous specifications, representing a source of psychological pressure during work in the cattle slaughtering areas. These organizational dimensions impact workers' individual and collective activity as well as workplace health. In our view, and corroborating international studies, in addition to the work's physical dimensions, organizational, human, strategic, and pedagogical aspects should be considered in projects involving the implementation of job rotation.
Resumen: La norma brasileña NR-36, específica para industrias de sacrificio y procesamiento de carnes, indica la necesidad de la implantación de rotación de puestos para reducir la exposición de los trabajadores a presiones físicas repetitivas y controladas por máquinas. No obstante, algunos estudios demuestran que los efectos alcanzados con esa implantación son generalmente inferiores a lo esperado, y que sólo la rotación no sería la solución para los problemas de salud en el trabajo. Mediante una investigación empírica en un frigorífico de sacrificio de bovinos, el objetivo de este artículo es presentar y discutir las dimensiones del trabajo real, consideradas relevantes para la salud y seguridad de los trabajadores. Tales dimensiones constituyen elementos importantes que deben ser consideradas en proyectos de implantación de rotación de puestos. La metodología comprende entrevistas colectivas con 16 trabajadores voluntarios divididos en 4 grupos. Se utilizaron técnicas de grupos focales y confrontación colectiva, valiéndose de grabaciones de la actividad. Los resultados evidencian dimensiones ya conocidas en la literatura, relacionadas con presiones físicas, competencias necesarias, ritmo de trabajo y falta de tiempo para realizar un trabajo de calidad. Aparecen nuevos datos en relación con las prescripciones heterogéneas del trabajo que representan una fuente de presión psíquica en zonas de sacrificio. Estas dimensiones organizativas impactan en la actividad individual y colectiva de los trabajadores, así como la salud en el trabajo. Desde nuestro punto de vista, y corroborando estudios internacionales, además de las dimensiones físicas del trabajo, se deben considerar aspectos organizativos, humanos, estratégicos y pedagógicos en proyectos de implantación de rotación de puestos.
Resumo: A norma brasileira NR-36, específica para indústrias de abate e processamento de carnes, indica a necessidade de implantação de rodízios de postos para reduzir a exposição dos trabalhadores a constrangimentos físicos repetitivos e controlados por máquinas. Porém, estudos demonstram que os efeitos alcançados com essa implantação são geralmente inferiores ao esperado e que a rotação sozinha não seria a solução para os problemas de saúde no trabalho. Por meio de uma pesquisa empírica em um frigorífico de abate de bovinos, o objetivo deste artigo é apresentar e discutir dimensões do trabalho real consideradas relevantes para a saúde e segurança dos trabalhadores. Tais dimensões constituem elementos importantes a serem considerados em projetos de implantação de rodízio de postos. A metodologia compreende entrevistas coletivas com 16 trabalhadores voluntários divididos em 4 grupos. As técnicas de grupo focal e de confrontação coletiva valendo-se de filmes da atividade foram utilizadas. Os resultados evidenciam dimensões já conhecidas na literatura relacionadas aos constrangimentos físicos, competências necessárias, ritmo de trabalho e falta de tempo para realizar um trabalho de qualidade. Dados novos aparecem quanto às prescrições heterogêneas do trabalho que representam uma fonte de pressão psíquica em zonas do abate. Essas dimensões organizacionais impactam a atividade individual e coletiva dos trabalhadores, assim como a saúde no trabalho. Do nosso ponto de vista, e corroborando estudos internacionais, além das dimensões físicas do trabalho, aspetos organizacionais, humanos, estratégicos e pedagógicos devem ser considerados em projetos de implantação do rodízio de postos.
Fichier principal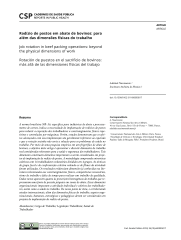 Rodízio de postos em abate de bovinos.pdf (587.83 Ko)
Télécharger le fichier
Origin : Publisher files allowed on an open archive
Licence : CC BY - Attribution