L'autonomie des salariés au regard de l'introduction des TIC dans la formation à distance
With the emergence of digital technologies, new challenges fall within the history of formation, which is at a turning point nowadays. By offering new perspectives to employees with an adaptability pledge, the aim of this investigation is to point out the self-reliance project. Are employees able to act freely, to self-manage themselves in a virtual space involving thought and interactions? This qualitative analysis, which is based on eight interviews, suggests thinking back to self-reliance conception through a new wave of distance training. The results highlight two dimensions: autonomy is favored by freedom of action, but it induces isolation.
Con el advenimiento de la tecnología digital, nuevos desafíos se inscriben en la historia de la formación que hoy hace frente a verdadero cambio de dirección. Ofreciendo nuevas perspectivas de carrera à los empleados, a través de un discurso que invita una adaptabilidad más grande. Este artículo trata de saber si la utilización de los instrumentos de comunicación favorece la autonomía de los trabajadores en la formación a distancia (FAD). ¿Consiguen los trabajadores actuar libremente, autorregularse en un espacio virtual que supone reflexiones e interacciones? Apoyándose en los resultados de una investigación realizada con una metodología cualitativa en la que participaron un grupo de ocho personas en actividad profesional, este artículo propone reconsiderar el concepto de autonomía en las nuevas modalidades de formación a distancia. Los resultados ponen de relieve dos dimensiones: la autonomía se ve favorecida por la libertad de acción, pero induce al aislamiento.
Avec l'avènement du numérique, de nouveaux défis s'inscrivent dans l'histoire de la formation qui rencontre aujourd'hui un véritable tournant. En offrant de nouvelles perspectives aux salariés, sous le discours d'une plus grande adaptabilité, il s'agit dans cet article de voir si le recours aux outils de communication permet d'accorder une plus grande autonomie aux salariés en formation à distance (FAD). Les salariés parviennent-ils à agir librement, à s'autoréguler dans un espace virtuel supposant réflexions et interactions ? S'appuyant sur les résultats d'une enquête qualitative menée auprès de huit personnes en activité professionnelle, cet article propose de repenser le concept d'autonomie dans les nouvelles modalités de formation distanciée. Les résultats mettent en avant deux dimensions : l'autonomie est favorisée par la liberté d'action mais elle induit de l'isolement.
Fichier principal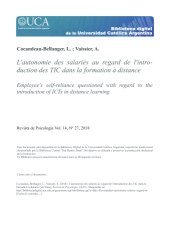 autonomie-salaries-regard-tic.pdf (650.22 Ko)
Télécharger le fichier
Origin : Publisher files allowed on an open archive
Licence : CC BY NC ND - Attribution - NonCommercial - NoDerivatives